MANI D'ORO
Pasta Fresca di Angela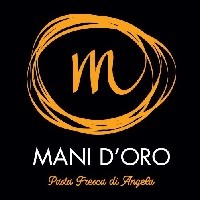 MANI D'ORO
+352 26 18 76 66
243, Route d'Esch, L-1471 Luxembourg (Luxembourg)

Italian
Salads
Pasta
Pizza
Attention!
This restaurant is temporarily closed, you can make an order anyway for a following date or time.
Orecchiette Agli Asparagi E Salmone Affumicato
Orecchiette With Green Asparagus And Smoked Salmon
25.90 €
Gnocchi Di Patate Dolci, Bufala E Scampi
Sweet Potatoes Gnocchi With Buffalo Mozzarella And Scampi
26.90 €
Pizza Guanciale E Taleggio
Mozzarella, Broccoli Sauce, Guanciale And Taleggio Cheese
20.90 €
Pizza Rucola E Bufala
Cherry Tomatoes, Rocket Salad Buffalo Mozzarella D.o.p.,
19.90 €
Pizza Bresaola, Rucola E Bufala
Bufala, Cherry Tomatoes, Rocket Salad And Buffalo Mozzarella D.o.p.
22.90 €
---
Chill Pizza Night Package
Make Your Own Pizza, Choose Your Preferite Drink And Have A "Chill" Night ;)
30.00 €
---
Burrata
Burrata, Parma Ham, Rocket Salad, Grains Mix And Cranberries
16.50 €
Fantasia Di Bruschette
4 Pieces - Let The Chef Surprise You, Just Let Him Know If You Have Allergies Or Intolerances
11.50 €
Parmigiana D'aubergines
Fried Eggplant Gratin In The Oven With Tomato Sauce, Basil, Garlic And Mozzarella Cheese
15.90 €
Lumache Al Burro Maitre D'hotel
Snails Baked With Maître D'hôtel Butter And Homemade Focaccia
13.90 €
Tagliere Di Angela
Italian Charcuterie, Olives, Dried Tomatoes, Caramelised Onions And Focaccia
16.90 €
Salmone Affumicato
Smoked Salmon Served With Capers And Caramelised Onions
21.90 €
Carpaccio Di Manzo
Beef Carpaccio With Rocket Salad And Parmesan Served With Homemade Focaccia
21.90 €
Tortellini In Brodo
Meat Tortellini In Broth
14.90 €
---
Napoletana
Tomate, Basilic
14.50 €
Penne All'arrabbiata
The Recipe For Penne All'arrabbiata Is Typical Of Roman Cuisine But Known Everywhere In Italy And Beyond.
15.90 €
Bolognese
Tomate, Basilic, Ground Beef
17.90 €
Salsiccia E Melanzane
Tomato Sauce, Italian Sausage And Aubergines
18.50 €
Truffle Duo
Pappardelle And Ravioli With Porcini And Truffle
25.50 €
Gnocchi Di Patate
You Can Choose The Different Sauces
17.50 €
Spaghetti Chitarra Con Scampi E Pomodorini
Homemade Spaghetti With Scampi, Cherry Tomatoes
21.90 €
Cannelloni With Beef
Home Made
17.00 €
Tortellini Panna E Prosciutto
Tortellini With Ham And Cream
17.90 €
Ravioli Ricotta Et Epinards
Ravioli With Tomato Sauce And Basil
17.90 €
Ravioli Al Salmone
Salmon, Capers, Cream And Caramelised Red Onions
19.50 €
Ravioli Porcini, Salsiccia E Melanzana
Homemade Ravioli Stuffed With Porcini Mushrooms,Italian Sausage And Eggplant
21.90 €
Carbonara
With Roman Pecorino
18.50 €
Spaghetti Aglio, Olio E Peperoncino
Sometimes Simple Food Is The Best... Garlic, Chilli And Fresh Parsley They Are Up For A Mouthwatering Meal
14.50 €
Spaghetti Chitarra Amatriciana
This Classic Sauce Takes Its Spiciness From Black Pepper And Dried Chiles And Its Depth Of Flavor From Guanciale, Italian Salt-Cured Pork Jowl.
18.50 €
Homemade Basil Pesto
Our Basil Pesto Is Homemade (Basil, Pine Nut, Parmesan And Olive Oil)
17.90 €
Pappardelle With Porcini
Homemade Pappardelle With Porcini Mushroom Sauce
19.50 €
Pasta Porcini E Crema Al Tartufo
Porcini Mushrooms, Truffle Sauce, Truffle (Depending On The Season And Availability) And Cream
25.50 €
Orecchiette Pugliesi E Polpette Di Carne
Typical Pasta From Puglia With Tomato Sauce, Meatballs And Salt Ricotta
21.50 €
Penne Al Salmone E Vodka
Homemade Penne With Smoked Salmon Nuanced With Vodka
20.90 €
Le Mafalde Di Angela (Parma)
With Cherry Tomatoes, Parma Ham, Rocket Salad, Bread Crumbs And Buffalo Mozzarella
24.90 €
Lasagna Vegetariana
Vegetarian Lasagna With Homemade Basil Pesto And Vegetables
17.00 €
Cannelloni With Ricotta And Spinach
Home Made
17.00 €
Tortellini Pasticciati
Tortellini With Bolognese Sauce And Cream
17.90 €
Ravioli Di Manzo
Made With Ground Beef And Bognese Sauce
18.50 €
Ravioli Porcini E Tartufo
Homemade Ravioli Stuffed With Porcini Mushrooms And Truffle Sauce
25.90 €
---
Crema Di Carciofo E Tartufo Nero 80Gr
Artichokes And Summer Truffle Cream
9.90 €
Crema Di Asparagi E Tartufo Nero Estivo 80Gr
Asparagus And Summer Truffle Cream
9.90 €
Crema Al Tartufo Bianco 80Gr
White Truffle Cream
12.50 €
Napoletana
Tomato Sauce And Basil
9.90 €
Norma
Tomato Sauce, Fried Aubergines
11.90 €
Italian Salsiccia And Olives
With Tomato Sauce
12.50 €
Olio All'essenza Di Tartufo Bianco 100Ml
White Truffle Flavoured Olive Oil
10.50 €
Pesto Al Tartufo 130Gr
Basil And Summer Truffle Sauce
13.50 €
Salsa Tartufata 500Gr
Truffle Sauce
47.00 €
Crema Ai Funghi Porcini 130Gr
Porcini Mushrooms Cream
9.00 €
Arrabbiata
Spicy Tomato Sauce
8.50 €
Bolognese
Tomato Sauce, 100% Beef
12.50 €
Porcini Mushrooms And Truffle
Porcini Mushrooms, Cream, Truffle Sauce
24.00 €
Miele Di Acacia E Tartufo Nero Estivo 100Gr
Acacia Honey And Summer Truffle Dressing
8.50 €
---
Marinara
Tomato Sauce, Origan, Garlic
10.50 €
Margherita
Tomato Sauce, Mozzarella D.o.p., Basil
11.50 €
Pizza Prosciutto
Tomato Sauce, Mozzarella, Ham
14.50 €
Prosciutto E Funghi
Tomato Sauce, Mozzarella, Ham, Mushrooms
15.50 €
Mortadella
Mozzarella D.o.p., Mortadella, Pistachos
16.50 €
La Piccante
Tomato Sauce, Mozzarella D.o.p., Ventricina, Spicy N'duja Sauce
15.50 €
Pizza Carrettiera
Tomato Sauce, Mozzarella, Salamino And Rocket Salad, Cherry Tomatoes
18.90 €
Quattro Stagioni
Tomato Sauce, Mozzarella, Ham, Olives, Mushrooms, Artichokes
16.50 €
Pizza Parma
Tomato Sauce, Mozzarella D.o.p., Rocket Salad, Parma Ham
17.90 €
Speck
Mozzarella, Smoked Scamorza, Speck, Grain Hazelnuts
17.90 €
Crudaiola
Mozzarella Fior Di Latte, Cherry Tomates, Parma Ham, Parmesan, Rocket Salad
18.50 €
Calzone
Tomato Sauce, Mozzarella, Ham
16.90 €
Calzone Vegetariano
Tomato Sauce, Ricotta Cheese, Grilled Vegetables
16.90 €
Pizza Mani D'oro
Tomato Sauce, Mozzarella, Shrimps, Smoked Salmon And Garlic Oil
18.90 €
Ortolana
Mozzarella D.o.p., Basil, Grilled Vegetables
15.50 €
Pizza Burratissima
Mozzarella, Valerian Salad, Burrata Cheese, Cherry Tomatoes, Italian Speck
17.90 €
Pizza Tonno
Mozzarella, Tuna
14.50 €
Tonno E Cipolla Caramellata
Mozzarella, Tuna, Caramelised Onions
15.50 €
Pizza Antoine
Smoked Salmon, Burrata, Valerian Salad, Caramelised Onions, Hazelnut, Lemon Zest
20.90 €
Pizza Del Montanaro
With Burrata, Italian Pancetta, Truffle And Pistachios (Glu, Lact, Nut)
22.00 €
Pizza Four Cheeses
Mozzarella, Gorgonzola, Taleggio, Parmesan
15.90 €
Capricciosa
Tomato Sauce, Mozzarella, Mushrooms, Ham, Olives, Egg
14.90 €
Pizza Nutella
Mezza Teglia 20*30 Cm
11.00 €
Pizza Nutella E Ricotta
Nutella, Sweet Ricotta Cheese And Spéculos
13.50 €
---
Avo-Chicken
Chicken, Cherry Tomatoes, Rocket Salad, Avocado
17.90 €
Caprina
Salad, Goat Cheese, Honey, Nuts, Parma Ham
18.90 €
Marittima
Smoked Salmon, Avocado, Spelt & Brown Rice, Lettuce, Valerian Salad, Orange, Sesame
19.90 €
Burrata Caprese
Tomatoes, Burrata Mozzarella, Basil
18.90 €
Caprese
Tomatoes, Mozzarella D.o.p., Basil
16.50 €
Caesar
Lettuce, Parmesan, Crouton, Chicken
17.90 €
Super Power
Quinoa, Grilled Vegetables, Rocket Salad, Valerian Salad, Cherry Tomatoes, Mint
17.90 €
---
Chocolate Mousse
Dark Chocolat
6.00 €
Sicilian Cannolo
The Most Iconic Of Sicilian Desserts, Sicilian Cannoli! Filled With Ricotta Made From Sheeps' Milk And Pistachios
5.90 €
---
Aperol Spritz
Aperol, Prosecco. Ice Will Be Sent Separately As For Your Convenience
10.00 €
Americano
Martini Rosso, Campari And Soda. Ice Will Be Sent Separately For Your Convenience
10.00 €
Negroni
Martini Rosso, Gin, Campari. Ice Will Be Sent Separately For Your Convenience
10.00 €
Negroni Sbagliato
Martini Rosso, Campari, Prosecco. Ice Will Be Sent Separately For Your Convenience
10.00 €
---
Aranciata San Pellegrino
20Cl
3.00 €
Ginger Beer San Pellegrino
20Cl
3.00 €
Fever Tree Tonic
Mediterranean
2.60 €
Diekirch Premium
Can 33Cl
3.50 €
Hoegaarden 4,8%Vol 33Cl
White Beer
4.90 €
Limonata San Pellegrino
20Cl
3.00 €
Diekirch 0,0%
Non Alcoholic Beer
3.00 €
Fever Tree Tonic
Clementine
2.60 €
Corona Extra
4,5% Vol 35,5Cl
5.00 €
Guinness 4,2%Vol 33Cl
Stout
5.50 €
---
---
Sarenas Grillo (Bio)
Retablo
34.00 €
Pinot Gris Premier Cru
Domaine Vinsmoselle
34.00 €
Malvasia Del Salento
12Emezzo
25.50 €
Riesling Grand Cru
Domaine Vinsmoselle
34.00 €
---
Bardolino Chiaretto
Monte Del Fra
25.00 €
Rosato Negroamaro
La Torre
27.50 €
---
Champagne Taittinger
Champagne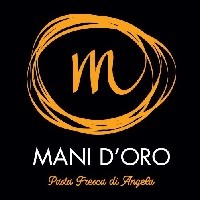 MANI D'ORO
+352 26 18 76 66
243, Route d'Esch, L-1471 Luxembourg (Luxembourg)
Italian
Salads
Pasta
Pizza
Delivery times
| | |
| --- | --- |
| Monday: | 10:00-19:45 |
| Tuesday: | 10:00-19:45 |
| Wednesday: | 10:00-19:45 |
| Thursday: | 10:00-19:45 |
| Friday: | 10:00-19:45 |
| Saturday: | 12:00-19:45 |
| Sunday: | Closed |
Users' reviews
Mean of the reviews
(2)
Merci beaucoup, c'était très bon
01/04/2023 at 12:40
A:
Change the sending address